"Rhetoric" - An Etymology of the Greek Word from Homer to Plato
On this page, I present some basic etymological information on the ancient Greek word rhêtorikê.
It is well known among historians of rhetoric that the English word rhetoric derives from the adjective in the elliptical Greek phrase (tekhnê) rhêtorikê, the first documented use of which we find in Plato's Gorgias (449a; see Edward Schiappa's "Did Plato Coin Rhêtorikê?") It is known, as well, that rhêtorikê derives from the more ancient eirô, one of several verbs meaning "say" or "speak" (cf. êmi, legô). However, much less attention has been given to the semantic evolution from eirô to the earliest use, more than 400 years later, of rhêtorikê. On this page I use information compiled in the Liddell and Scott's A Greek-English Lexicon to sketch this evolution, including the identification of a significant expansion of meaning following Solon's democratic reforms in 594 BCE.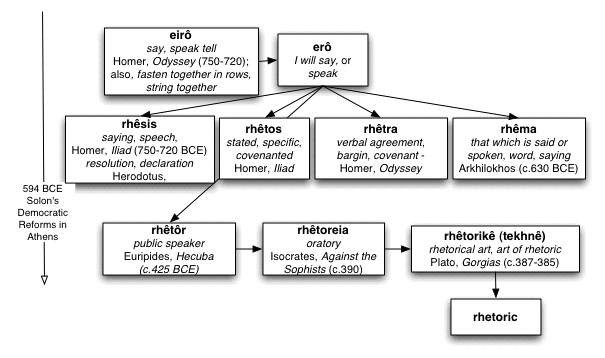 Works Cited