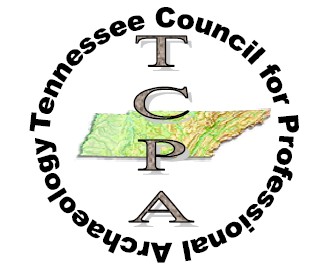 TCPA Membership Application/Renewal Form (PDF format). Please note that this form should be completed using the most recent version of the Adobe Reader software.
Officers
Tanya M. Peres
President (2014-2015)
Department of Sociology & Anthropology
MTSU Box 10, Middle Tennessee State University
Murfreesboro TN 37132-0001
tanya.peres@mtsu.edu
Phillip Hodge
President-Elect (2014-2015)
Tennessee Department of Transportation
Environmental Planning and Permits Division, James K. Polk Bldg Suite 900
505 Deaderick Street
Nashville TN 37243-0334
phillip.hodge@tn.gov
Aaron Deter-Wolf
Secretary-Treasurer (2014-2015)
Cole Building #3, 1216 Foster Ave
Nashville TN 37243
aaron.deter-wolf@tn.gov
---
Board Members
Executive Board 1 (2013-16)
Shannon C. Hodge
Executive Board 2 (2013-16)
Jesse Tune
Executive Board 3 (2014-17)
Andrew Brown
Executive Board 4 (2014-17)
Sarah Levithol
Executive Board 5 (2011-14)
Vacant
Executive Board 6 (2011-14)
Jared Barrett
Executive Board 7 (2012-15)
Paul Avery
Executive Board 8 (2012-15)
Kandi Hollenbach
Immediate Past President (non-voting; 2014-2015)
Kevin E. Smith

The Tennessee Council for Professional Archaeology (TCPA) is a non-profit mututal benefit corporation organized in 1992 to facilitate, assist, and advocate for the practice of professional archaeology in this state.
Membership in the TCPA is open to individuals supporting the purposes of the Council who have an abiding interest in archaeological investigation in the State of Tennessee and who have previously demonstrated a committment to meeting the highest professional standards.
As stated in the Bylaws, the goals of the TCPA are to:
To facilitate and assist in the practice of professional archaeology in the State of Tennessee
To curate, display, and otherwise disseminate archaeological information in the State of Tennessee
To stimulate and encourage cooperation between professional and non-professional archaeologists
To strengthen the identification of professional archaeology and of qualified archaeologists as professionals
To encourage high standards in the practice of archaeology
To require ethical behavior and high standards of performance from its membership
To assist governmental and other organizations employing archaeologists in the responsible implementation of their duties
To support existing legislation and legislative efforts that positively affect cultural resources and to stand against legislative efforts that would negatively affect those resources
To provide a broadly-based open forum in which technical, ethical, administrative, and philosophical issues affecting cultural resources can be discussed in a positive atmosphere.
Information last revised on January 24, 2014.