Required Text
The following text is required; a thorough familiarity with its contents is advised:
Herrick, Paul. The Many Worlds of Logic: A Philosophical Introduction. Second Edition. Fort Worth, TX: Harcourt Brace, 1999.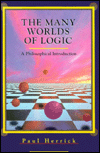 Recommended Texts

The following texts are recommended for those students who wish to advance their philosophical understanding or abilities:
Haack, Susan. Philosophy of Logics. Cambridge, Cambridge University Press, 1978.
Kneale, William and Martha Kneale. The Development of Logic. Oxford: Clarendon Press, 1985 Reprint Edition.