Ogden & Richards's The Meaning of Meaning and Its Influence on Burke's Early Thought - A Sketch
This page provides my sketch of Ogden and Richards's theory of the symbol from The Meaning of Meaning (1923) for the purpose of gaining a better understanding of how this theory influenced Burke's early thinking on aesthetics and rhetoric.
In December of 1940, Kenneth Burke wrote a letter to Malcolm Cowley in which he recalled the disrupting influence of C. K. Ogden and I. A. Richards's Meaning of Meaning (1923) on his early work in aesthetic theory, which had focused on the effects of the literary text on its readers:
. . . that winter [i.e., 1924] I stayed at Andover, I wrote two essays, "Psychology and Form" and "the Poetic Process"; it was my intention to round these off with a third, "On the Sublime." I began it, then ran into The Meaning of Meaning, and was so knocked over that I was unable to write the third essay. (233)
So what was it about The Meaning of Meaning that had such an effect on Burke? In this book, Ogden and Richards propose a "science of Symbolism" they believe will overcome the shortcomings of current philosophical (e.g., M. Bréal), philological (e.g., F. de Saussure), and ethnological (e.g., F. Boas) approaches to the study of language:
Symbolism is the study of the part played in human affairs by language and symbols of all kinds, and especially of their influence on Thought. It singles out for special inquiry the ways in which symbols help us and hinder us in reflecting on things. (9)
The fundamental assumption of their theory of the symbol is its subordination of the word-thing relationship and, thus, the priority given to the role of thought and, more generally, mind. The word-thing relationship should be regarded as subordinate, they argue, because it is indirect, or imputed from the "real" relationships that hold between (1) thought and symbol and (2) thought and referent.
Here is their diagram of these relationships: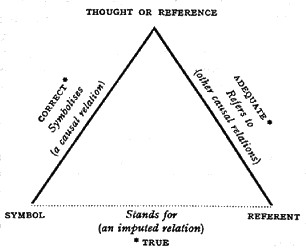 And here is how Ogden and Richards define each of the three relationships in their triangular model:
Between a thought and a symbol causal relations hold. When we speak, the symbolism we employ is caused partly by the reference we are making and partly by social and psychological factors--the purpose for which we are making the reference, the proposed effect of our symbols on other persons, and our own attitude. When we hear what is said, the symbols both cause us to perform an act of reference and to assume an attitude which will, according to circumstances, be more or less similar to the act and the attitude of the speaker. (10-11)

Between the Thought and the Referent there is also a relation; more or less direct (as when we think about or attend to a coloured surface we see), or indirect (as when we "think of" or "refer to" Napoleon), in which case there may be a very long chain of sign-situations intervening between the act and its referent: word--historian--contemporary record--eye-witness--referent (Napoleon). (11)

Between the symbol and the referent there is no relevant relation other than the indirect one, which consists in its being used by someone to stand for a referent. Symbol and Referent, that is to say, are not connected directly (and when, for grammatical reasons, we imply such a relation, it will merely be an imputed, as opposed to a real, relation) but only indirectly round the two sides of the triangle. (11-12)
For Burke, the most important of these three relationships is the first because it expands the concept of meaning to include what Ogden and Richards here call "social and psychological factors." That is, linguistic, or symbolic meaning consists not only in an act of reference but also manifests social and psychological dimensions of the speaker and the hearer. Later in The Meaning of Meaning, Ogden and Richards develop this idea of a psychological dimension of meaning by theorizing an "emotive" aspect of meaning. In Burke's early writings, this concept of "emotive meaning" is most important because of his attempts to develop an aesthetic philosophy, that is, a philosophy that privileges the mental faculty of the emotions rather than the faculty of rationality and the faculty of the appetites. to the act of reference and, thus, limited to the faculty of intellection, or reasoning; instead, the nature of meaning is regarded as a complex interaction involving a broad category that prepares the introduction, later, of the concept of "emotive meaning."
Works Cited
[Boas, Franz. Although Ogden and Richards quote Boas, they do not cite the relevant text.]
Bréal, Michel.

Semantics: Studies in the Science of Meaning

. Translated by Nina Cust. London: W. Heinemann, 1900. Translation of

Essai de sémantique

(Paris: Hachette, 1897).
Burke, Kenneth. "The Poetic Process." In

Counter-Statement

. 3rd revised ed. 45-62. 1931. Reprint, Berkeley: University of California Press, 1968. Originally published in

The Guardian

2 (1925): 281-94.
___. "Psychology and Form." In

Counter-Statement

. 3rd revised ed. 29-44. 1931. Reprint, Berkeley: University of California Press, 1968. Originally published in

The Dial

79 (1925): 34-46.
Burke, Kenneth and Malcolm Cowley.

The Selected Correspondence, 1915-1981

. Edited by Paul Jay. New York: Penguin, 1988.
Ogden, C. K. and I. A. Richards.

The Meaning of Meaning: A Study of the Influence of Language Upon Thought and of the Science of Symbolism

. 8th ed. 1923. Reprint, New York: Harcourt Brace Jovanovich, 1946.
Saussure, Ferdinand de.

Cours de linguistique générale

. Ed. Charles Bally and Albert Sechehaye in collaboration with Albert Riedlinger. Paris: Payot, 1916.