INFORMATION

WHEN:

April 23, 2016
8:30 AM to 1:45 PM

WHERE: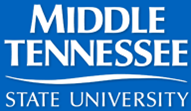 Middle Tennessee State University
Middle Tennessee Psychological Association
Spring 2016 Meeting
April 23, 2016


Middle Tennessee State University will be hosting the Middle Tennessee Psychological Association's 2016 spring meeting. The meeting provides an excellent opportunity for undergraduate and graduate students to present their efforts to colleagues from other colleges and universities.
Download a printable call for papers (submissions are closed)

The schedule for this year's meeting will be as follows:
8:30—9:00 AM Registration
9:00—9:45 AM Poster Session I/Lab Tours and Study Participation
10:00—11:00 AM Keynote Speaker
11:15 AM—12:30 PM Paper Sessions (up to five concurrent sessions, based on demand)
12:45—1:30 PM Poster Session II/Interactive Psychology Education Advice
1:30—1:45 PM Business meeting
Online Registration Form (pre-registration is closed; you may still register on site)
Online Submission Form (submissions are closed)
KEYNOTE SPEAKER:
Thomas R. Kwapil
Department of Psychology
University of North Carolina at Greensboro and University of Illinois
TITLE:
Schizotypy and the Psychological Foundations of Schizophrenia
The developmental vulnerability for schizophrenia is expressed across a continuum of subclinical and clinical symptoms and impairment referred to as schizotypy. Schizotypy offers a useful construct for understanding schizophrenia-spectrum psychopathology as it has explanatory power for understanding the development, expression, trajectory, and treatment of schizophrenia-spectrum conditions, as well as variation in normal behavior. It is also a unifying construct because it encompasses a broad spectrum of conditions – schizophrenia, related psychotic and personality disorders, the prodrome, and subclinical expressions – under a single conceptual framework. Schizotypy, and by extension schizophrenia, is heterogeneous – and this heterogeneity can be captured in a multidimensional framework. My program of research focuses on defining, assessing, and validating a multidimensional model of schizotypy and examining risk for schizophrenia-spectrum disorders. My talk will present a series of cross-sectional and longitudinal studies that employ questionnaire, interview, neurocognitive, biobehavioral, genetic, and daily life assessments. These studies have demonstrated that positive (psychotic-like) and negative (deficit) dimensions of schizotypy can be reliably identified in non-clinically ascertained young adults. Furthermore, our studies have shown that these dimensions are associated with hypothesized patterns of schizophrenic-like symptoms and impairment and that they predict the development of psychotic and schizophrenia-spectrum disorders. Positive and negative schizotypy are associated with hypothesized differential patterns of cognitive and biobehavioral deficits and genetic variability. Using experience sampling methodology, we have demonstrated that these dimensions are differentially expressed in daily life. These studies support the construct validity of schizotypy and its utility for understanding the origins and development of schizophrenia and related disorders.

Guidelines and Information
The advance registration deadline is April 15, 2016. Please register by April 15, as this will help us with an accurate count for refreshments. All attendees (including presenters) are required to register for the meeting.
The registration fee is $5.00 for students and community members and $15.00 for faculty/professionals. Community college and high school students may attend for free, but still need to register. Registration includes membership in MTPA, a program, access to the conference, and breakfast.
The submission deadline is April 15, 2016. All submissions received by the deadline will be accepted for presentation. Presenters will be notified by email that their submission has been received. A final program will be available online by April 19, 2016.
The research should have been conducted by an undergraduate or graduate student. If a faculty member is a co-author, the student should be first author. The student researcher will be expected to make the presentation.
Papers on completed research, ongoing research, or theoretical reviews are encouraged.
Presenters may choose to make an oral presentation or to present a poster describing their research.
Poster Instructions
Participants must provide all materials for their posters, including the actual poster itself. Please do not exceed 4' high by 4' wide. Free-standing, tri-fold project display boards work well.
MTPA will provide tables to place your posters for viewing. Nothing may be attached to the walls of the building. Be sure to duplicate all handouts and materials before the meeting.
Oral Presentation Instructions
Student papers will be presented in fifteen (15) minute blocks. Plan to speak for 10-12 minutes, allowing 3-5 minutes for questions.