INFORMATION

WHEN:

April 25, 2015
8:30 AM to 1:45 PM

WHERE: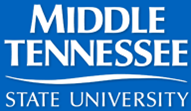 Middle Tennessee State University
Middle Tennessee Psychological Association
Spring 2015 Meeting
April 25, 2015


Middle Tennessee State University will be hosting the Middle Tennessee Psychological Association's 2015 spring meeting. The meeting provides an excellent opportunity for undergraduate and graduate students to present their efforts to colleagues from other colleges and universities.


Download a printable call for papers

The schedule for this year's meeting will be as follows:
8:30—9:00 AM Registration
9:00—9:45 AM Poster Session I/Lab Tours and Study Participation
10:00—11:00 AM Keynote Speaker
11:15 AM—12:30 PM Paper Sessions (up to five concurrent sessions, based on demand)
12:45—1:30 PM Poster Session II/Interactive Psychology Education Advice
1:30—1:45 PM Business meeting
Online Registration Form (Closed)
Online Submission Form (Closed)
KEYNOTE SPEAKER:
Lisa de la Mothe, Ph.D.


Department of Psychology


Tennessee State University
TITLE:
Say That Again?
Understanding the Neuroanatomical Organization of Primate Communication
One of the many unique features of humans is our ability to communicate, our development of language, and yet from a neural perspective there is still much to learn in terms of how these processes are organized. We rely heavily on the non-human primate model for understanding basic structural organization principles in terms of how the auditory system works, and recently more attention has been paid to developing more complex models of primate vocalizations such as monkey calls. By examining both the path that sound travels once it enters the ear, as well as the path it travels when the animal is vocalizing, we can obtain a basic framework and insight into speech and communication. These pathways can be expanding to include neurochemical organization of the auditory system and auditory related areas.

By understanding how these processes are organized in a normal population, we can then use that model to examine potential differences in clinical populations with disorders that affect auditory processing and communication such as dyslexia, autism, and schizophrenia.
Guidelines and Information
The advance registration deadline is April 17, 2015. Please register by April 17, as this will help us with an accurate count for refreshments. All attendees (including presenters) are required to register for the meeting.
The registration fee is $5.00 for students and community members and $15.00 for faculty/professionals. High school students may attend for free, but still need to register. Registration includes membership in MTPA, a program, access to the conference, and breakfast.
The submission deadline is April 17, 2015. All submissions received by the deadline will be accepted for presentation. Presenters will be notified by email that their submission has been received. A final program will be available online by April 21, 2015.
The research should have been conducted by an undergraduate or graduate student. If a faculty member is a co-author, the student should be first author. The student researcher will be expected to make the presentation.
Papers on completed research, ongoing research, or theoretical reviews are encouraged.
Presenters may choose to make an oral presentation or to present a poster describing their research.
Poster Instructions
Participants must provide all materials for their posters, including the actual poster itself. Please do not exceed 4' high by 4' wide. Free-standing, tri-fold project display boards work well.
MTPA will provide tables to place your posters for viewing. Nothing may be attached to the walls of the building. Be sure to duplicate all handouts and materials before the meeting.
Oral Presentation Instructions
Student papers will be presented in fifteen (15) minute blocks. Plan to speak for 10-12 minutes, allowing 3-5 minutes for questions.