INFORMATION

WHEN:

April 20, 2019
8:30 AM to 1:45 PM

WHERE: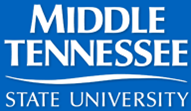 Middle Tennessee State University
Middle Tennessee Psychological Association
Spring 2019 Meeting
April 20, 2019


Middle Tennessee State University will be hosting the Middle Tennessee Psychological Association's 2019 spring meeting. The meeting provides an excellent opportunity for undergraduate and graduate students to present their efforts to colleagues from other colleges and universities.


The schedule for this year's meeting will be as follows:
8:30—9:00 AM Registration
9:00—9:45 AM Poster Session I
10:00—11:00 AM Keynote Speaker
11:15 AM—12:30 PM Paper Sessions (up to five concurrent sessions, based on demand)
12:45—1:30 PM Poster Session II
KEYNOTE SPEAKER:
James R. Houston, Ph.D.
Middle Tennessee State University

Department of Psychology
Exploring the Current Perspectives on Cognitive and Emotional Aging: What Does the Research Suggest About Our Aging Minds?

Abstract
If we have the good fortune, we will all age and experience age-related changes in our mental function. Yet, stereotypes for the aging brain are pervasive and generally paint a bleak picture of decline. I will review the current scientific understanding of the aging mind and the steps that are being taken by aging researchers to better understand how we can ward off age-related declines in mental function and maintain our mental capacities as we age.
James R. Houston
Dr. Houston is an assistant professor in developmental psychology at Middle Tennessee State University. He teaches coursework in human development, aging, statistics, and personality. His research focuses on the fundamental mechanisms underlying cognitive aging, the neural mechanisms underlying age-related differences in emotion processing, and understanding the role of the cerebellum in cognitive function through the study of Chiari malformation syndrome. Notable publications have appeared in Experimental Aging Research, Psychological Medicine, The Cerebellum, and the Journal of Neuroradiology.
Guidelines and Information
The advance registration deadline is April 12, 2019. Please register by April 12, as this will help us with an accurate count for refreshments. All attendees (including presenters) are required to register for the meeting.
The registration fee is $5.00 for students and community members and $15.00 for faculty/professionals. Community college and high school students may attend for free, but still need to register. Registration includes membership in MTPA, a program, access to the conference, and breakfast.
The submission deadline is April 12, 2019. All submissions received by the deadline will be accepted for presentation. Presenters will be notified by email that their submission has been received. A final program will be available online by April 16, 2019.
The research should have been conducted by an undergraduate or graduate student. If a faculty member is a co-author, the student should be first author. The student researcher will be expected to make the presentation.
Papers on completed research, ongoing research, or theoretical reviews are encouraged.
Presenters may choose to make an oral presentation or to present a poster describing their research.
Poster Instructions
Participants must provide all materials for their posters, including the actual poster itself. Please do not exceed 4' high by 4' wide. Free-standing, tri-fold project display boards work well.
MTPA will provide tables to place your posters for viewing. Nothing may be attached to the walls of the building. Be sure to duplicate all handouts and materials before the meeting.
Oral Presentation Instructions
Student papers will be presented in fifteen (15) minute blocks. Plan to speak for 10-12 minutes, allowing time for questions and changing rooms.
Powerpoint is available in all rooms. Arrive early to check that your presentation will run in your room.